There are times I wrestle with who I am.  Who doesn't?  Well, if we take even half a second to contemplate it we'd admit it.
There are days I want to live in blog land and be popular like The Pioneer Woman (you rock Ree!) and there are other days I'm quite content with my quiet little blog that only friends and family read.
I realize my kids are more important right now.  It's quite funny they put their heads together the other day and made a pact (excuse me while I wipe the spit off the monitor because I just laughed so hard) when I had to drag all four of them to the Mayo Clinic with me for a dermatology appointment.  I had told them that if God allowed us to find a home in Florida where the schools were good then all four of them would promptly be put in public school next year.  I was tired of homeschooling.
The silent lack of gasping from the back seat told me they knew I was serious.  No, "really Mom?'s".  No, "yea right."  Just silence.
So the hot plan was formed…..their "not so secret anymore pact is to be good for the rest of their sweet little lives.  Baby girl is certainly putting her walking where her talking was because she tied up the trash twice today when she noticed it was full AND put a new bag in the trash can.  Can you say, "Pick me up off the floor?"  She also washed all the dishes in the sink by hand today without being asked.  She's blowing the boys away!!!  You go girl!!  Mama's got places we can shop!  Just keep up that sweet help you are giving me!!!
I'll keep you posted on how the rest of their life goes and also what public school is like in, say, perhaps 6-8 months from now for some of them.
It shall be interesting…………
Here's what my oldest is attempting by football season again this year.  You know where his priorities are…
He's still sporting about a 4 blade from his last mama haircut!!
And I found this one of my second born….man he's pretty!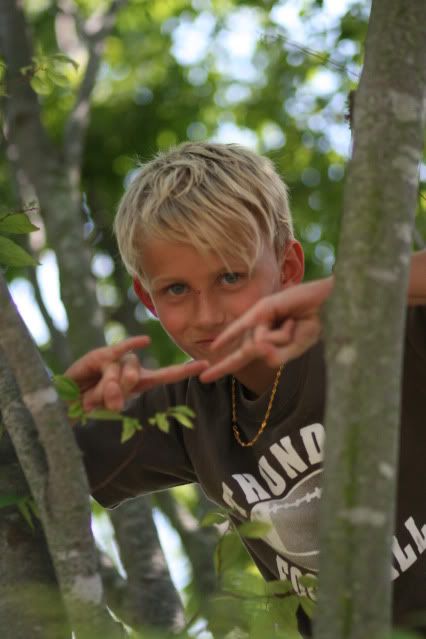 What kooks….I'm blessed to even be a part of their lives.