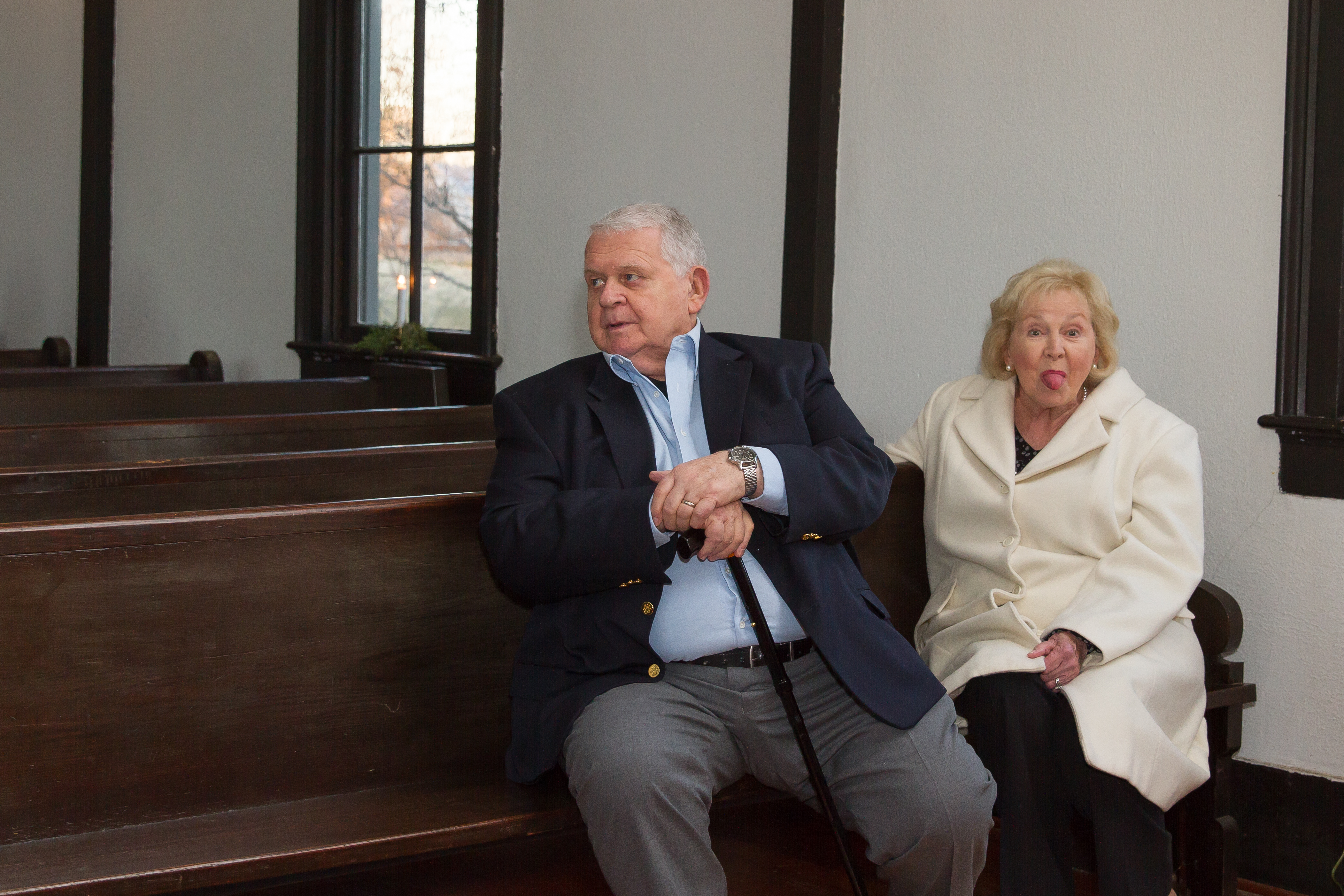 On January 4th of 2014, just about a month ago, we celebrated as the first grandchild in the family got married.  Nana and Grandbo (above) were hamming it up for my camera as I shot candids at the rehearsal the night before.  We spent Christmas at home in Florida and then packed up to spend almost a week in Burlington, NC with my family.  My mom and sister worked tirelessly as they prepared for the wedding.
Two weeks later I got a phone call that mom was in the ER.  She was sick and her tummy hurt badly.
The next day they performed emergency surgery to see why her white blood cell count was so high.
She never woke up.
My mom passed from this world into Eternity with our Lord on January 27, 2014.
One month and I no longer have my sweet mom here to talk to, call on the way to pick up my kids, or to whine to when mommy-hood gets the best of me.
The first week was spent with my family doing all the things one does in preparation for a funeral.
The second week I flew home to Florida.
What I did not know is that I was flying home to a black hole.  One that called to me from a place I'd never been – a place of deep, bottomless grief.
Losing my mom has been the hardest thing God has asked me to walk through thus far in my life.
My reflections on her have become different in the light of God's goodness and love.  What I once thought of as weakness is now strength.  Silently she walked out Jesus before me.  Often I did not see.  She loved without words.  She loved by serving and doing and being the best mom ever.
How did I ever miss that?
But I did.  Sometimes it was just what moms do.  Other times it was what I had gotten accustomed to and took for granted.  I never want to take kindness for granted again.
I've decided to chronicle parts of her life in a small celebration on Facebook.  It's allowed me to think and write just a little at a time.  I've not had the brain power for a full blog post.  I still don't.  So here is a few FB posts for those of you who haven't read them:
Monday marks the two week mark of mom going to live with Jesus. So I thought I would try to write something great about her for the next two weeks. Please join me in praising our moms! My Mom was the kindest woman I have ever known. She always put others first.
Day 2 -Today marks two weeks since mom died. Today I remember selflessness. Mom always took the time to play board games with my kids. Whether we were at the beach or visiting Burlington you'd find her taking the time to soak up her grandchildren. Mom, thank you for loving them!
Day 3 – I've thought about what to write about mom a lot today. No particular word has come to mind except the overwhelming feeling of LOVE she imparted in my life.Mom loved. She loved gently, silently at times. But always with the peacefulness and quietness of Christ. She was a behind the scenes kind of worker. This is seen in her dedication to the church's Altar Guild. She got things ready for Sunday morning, only a few knew she did it. She went to the grocery store every Friday. She cooked for our birthdays. She sent cards. She bought me a Holly Hobbie doll figurine on my adopted birthday just because I wanted one. I miss you mom. You made my life better

Day 4 – I have missed mom a lot today. The weather is cold and the kids are home sick and I have wanted to pick up the phone and call her because it's snowing in Burlington. There was a word on my heart this morning, but try as I may I can't get it to come to mind again.
So today, I choose funny. My mom had the same quirky sense of humor that my grandmother (her mom) had. I remember at the beach this year that she put on a funny hat and walked into my sister's room acting like a rapper. OMG did she make us laugh. I have the picture on my phone and everytime mom would call that photo would pop up and I would smile just remembering how funny she was. 
It was just like her to stick out her tongue and for dad to be looking away as I tried to capture a "sweet" shot of her at my niece's wedding. But no, out came the tongue and dad looked away. OUTTAKE!  (photo above)
I miss your laugh mom. I miss your silliness and your smile. Danielle just said "I miss Nana greeting us at the door no matter what time we got to Burlington." Thank you again for being such a special mom, grandmother and friend. We still really miss you Nana!!!
Day 5 or my Two Weeks of remembering my mom with thankfulness in my heart. No one can say it better than Kid President today. So go ahead, take a few minutes to laugh, cry and hug your mom! Loving you today mom.
http://www.youtube.com/watch?v=pQ4Rnba85o8
Hug your mom today.  Or call her.  Or give her a kiss.  I was blessed with two moms.  One who gave me life and another who raised me.  Now I am without both.  I know there is a party going on in heaven, but one earth, this child's heart breaks.